COVID-19's impact on the offshore wind market
COVID-19 has hampered offshore wind industry growth, as governments were required to apply lockdowns in the first half of 2020. Governments and municipal governments established strict restrictions, and all non-essential activity were halted. This had a negative impact on the offshore wind sector because there was less focus on its development.
The Global offshore wind market is expected to grow from an estimated USD 31.8 billion in 2021 to USD 56.8 billion by 2026, at a CAGR of 12.3% during the forecast period. Offshore wind turbines are increasingly being installed and is showing robust growth.
Furthermore, during the second quarter, production and supply chain delays were observed, posing a challenge to the offshore wind sector.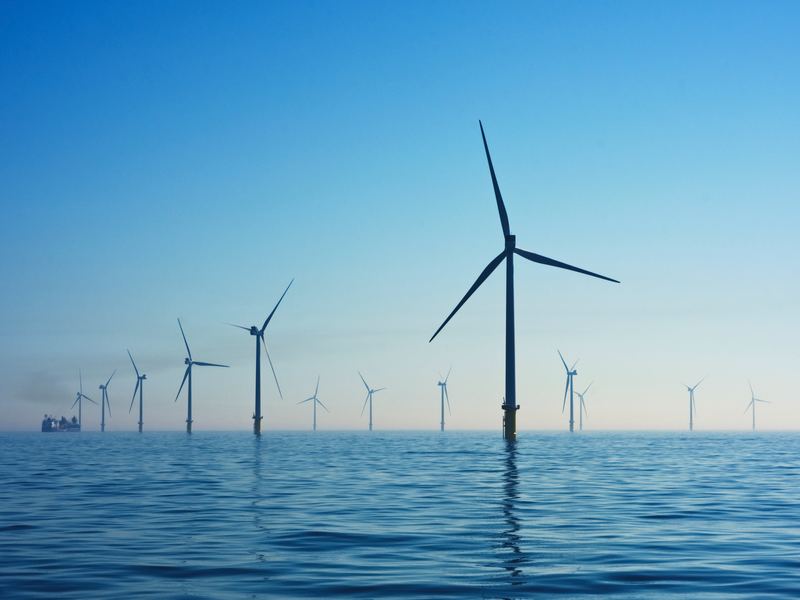 Market Trends in Offshore Wind
The offshore wind market is projected to be driven by rising global investments in renewable energy.
Due to causes such as the desire to minimise carbon emissions, the depletion of fossil fuels, climate change, and so on, there has been a considerable movement in the energy sector toward renewable and green energy. A number of government programmes are in place to aid the transition to greener energy. Many multinational corporations are taking steps to reduce their carbon footprint in order to contribute to a greener world and long-term sustainability. Equinor (Norway), for example, wants to cut its carbon emissions in half by 2050. The goal includes expanding its renewable energy companies, particularly offshore wind, which may reach 6,000 megawatts in six years and 16,000 megawatts in 15 years. Another example is the energy behemoth Total, which has agreed to sell a 51 percent stake in its Seagreen 1 offshore wind farm project to SSE Renewables. This project is expected to cost Total 70 million euros. Offshore wind, according to researchers, could generate USD 166 billion in new investments and USD 1.7 billion in new tax revenue for the US Treasury by 2022, while also supporting 80,000 employment annually by 2035.
Constraints: Expensive capital and logistical concerns
Offshore wind is one of the most promising and environmentally benign energy generation technologies available. Though it has a high capacity factor when compared to similar technologies like solar and onshore wind, its high capital cost prevents it from being implemented. Offshore wind turbines are prone to erosion since they operate in severe marine environments for decades. Even the most favourable characteristics, such as strong wind speeds, can become a disadvantage for offshore wind turbines. When the wind speed exceeds 25 m/s, the turbines, for example, tend to shut down. As the size of offshore wind farms has become larger, so have the obstacles of construction, transportation, installation, and operation. In general, logistics challenges are more difficult to overcome in offshore wind farms. Wind farms are typically placed far from the coast and are difficult to reach, particularly in poor weather. As a result, even the tiniest technical fault could be difficult and costly to resolve. Other difficult aspects of offshore wind deployment include resource characterization, grid connections and operation, and transmission infrastructure development, all of which are significantly easier in other technologies like solar and onshore wind. As a result, the worldwide offshore wind market is constrained by high capital expenditures and challenges related to operations, maintenance, transportation, and logistics.
Initiatives by governments and businesses to minimise carbon emissions are opportunities.
Because of dropping technology costs, a growing need to reduce CO2 emissions, and rising energy consumption in developing and underdeveloped countries, renewable energy demand will continue to climb. To meet the Paris Agreement's aims, the share of renewables in annual global energy generation must climb from 25% to 86 percent by 2050, according to the International Renewable Energy Agency (IRENA). To do so, the world will need to invest USD 110 trillion in the sector by 2050, up from the USD 95 trillion expected by 2030. As a result of this shift, there will be a noticeable shift away from fossil fuels and toward renewable energy sources. Bloomberg BNEF estimates that USD 13.3 trillion will be invested on new power generation assets between 2019 and 2050, with 15,145 GW of carbon-free plants likely to be built. According to the BNEF, wind and solar will account for 50% of global electricity generation by 2050.
COVID 19's Impact on Challenges
The wind power industry's resilience and flexibility have been put to the test as a result of the worldwide economic downturn caused by the COVID-19 epidemic. The pandemic is still wreaking havoc on the wind power industry's supply chain. Europe is one of the most important markets for offshore wind energy, and it's also one of the hardest hit by COVID-19, which has hampered growth due to project delays. Because of the disruptions to European and worldwide trade, projects in the pipeline have been delayed, resulting in increased CAPEX. Offshore wind energy is expected to grow faster than onshore wind after the pandemic, according to the International Energy Agency.
In 2020, the turbine category will contribute the most to the offshore wind industry by component.
By component, the turbine category held the greatest proportion of the offshore wind market in 2020. The nacelle, rotors and blades, and tower segments of the offshore wind market are further divided. Turbines are mounted on the tower and are responsible for harvesting wind energy to generate electricity.
In 2020, the shallow water segment will be the largest contributor to the offshore wind market in terms of location.
In terms of location, the shallow water category accounted for the biggest proportion of the offshore wind market in 2020. This is where the majority of projects are carried out. This segment is recommended for the development of an offshore wine farm due to the presence of considerably less demanding weather and ease of maintenance. In addition, installing electrical infrastructure in shallow water is easier than installing a wind turbine. Because the wind speed available in shallow water is significantly lower, turbines with lower MW capacities are erected in this area.
Due to strong legislation and political commitment, Europe has built a market for offshore wind that is expected to continue to grow.
In 2020, Europe had the greatest proportion of the offshore wind market among all regions. The European market is broken down further into the United Kingdom, Germany, Denmark, Belgium, the Netherlands, Sweden, Finland, Ireland, and the rest of Europe. Several prominent offshore wind firms are based in Europe, including Siemens (Germany), Nordex SE (Germany), Vestas (Denmark), ABB (Switzerland), and others. Offshore wind technologies and offshore wind farm development have been pioneered in the European region. The European Wind Initiative (EWI), a wind energy R&D initiative created to take Europe's wind industry to the next level, is supporting the development of offshore wind energy. The European Union's countries are largely focused on rebuilding their old electrical infrastructure, and their governments are pushing renewable energy generation and establishing networks from generation to end-users to enable for efficient power and energy trading.
Siemens Gamesa (Spain), Vestas (Denmark), General Electric (US), and Shanghai Electric Wind Power are the market leaders in offshore wind (China).
Read Also: Immuno-Oncology Clinical Trials Market