Adult diapers are incontinence care devices that are mostly worn by those who suffer from severe incontinence, diarrhoea, mobility disability, or dementia, among other things. Growing elderly population, higher diaper affordability, expanding urbanisation, and increased awareness of the importance of improved hygienic conditions are among the market's key growth stimulants.
Furthermore, medical centres are increasingly using incontinence care products, particularly for patients with severe diseases, because these diapers help minimise leaking, maintain body fluid levels, and provide comfort. Apart from medical applications, there has been a significant growth in the usage of these diapers for other purposes, such as by deep-sea divers, pilots on long flights, and workers at manufacturing plants. As a result, the aforementioned medical and non-medical uses of adult diapers are expected to boost their global sales.
In 2018, the worldwide adult diapers market was worth USD 12.62 billion. During the projection period, it is expected to grow at a CAGR of 12.7%.
The popularity of disposable adult diapers by the geriatric population has increased dramatically as a result of technological advancements. These diapers are designed with a gel-like polymer bead core that enhances their absorbency capacity, giving users more comfort and protection. As a result of their improved retention and fluid absorption capacities, disposable diapers are expected to see greater demand during the forecast period, boosting market growth.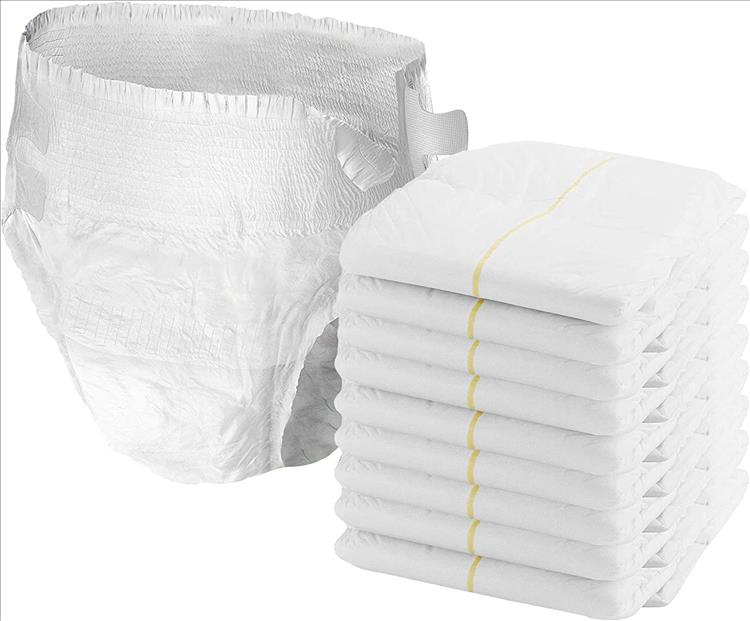 Despite these positive trends, the market is expected to be hampered by reasons such as lack of understanding and societal stigmas associated with incontinence, particularly in developing nations. Governments, in partnership with leading adult diaper makers, are launching initiatives targeted at removing such societal stigmas, which are expected to generate considerable market growth prospects in both established and developing regions.
Insights about Type
The market can be divided into three types: pad type, pant/pull-up type, and tape on diapers. In 2018, the pant/pull-up type sector generated more than 30.0 percent of total sales. By 2025, it will have the highest share of the adult diapers market. Multilayer fibres in these diapers increase their absorbency, provide long-hour protection, and reduce skin irritation. Furthermore, because they are a pant/pull-up style diaper, they are comfortable even when used frequently because they function similarly to ordinary underwear.
Pad type diapers are also predicted to rise at a significant CAGR of 13.6 percent throughout the forecast period, owing to the several advantages they provide, including as odour eradication, liquid retention capacity, and bacterial growth control. These diapers are biodegradable and easily available on the market, as well as being simple to use and affordable.
Regional Insights Report Coverage & Deliverables
In 2018, Asia Pacific accounted for nearly 30.0 percent of total sales. Over the forecast period, it is expected to have the greatest CAGR. Due to changing lives and habits, as well as increased incidence/occurrence of incontinence among the older population, developing countries are expected to have the fastest development. Due to expanding disposable incomes and women's literacy rates, India and China are expected to be at the forefront of the area.
Europe is expected to grow at a significant rate over the projection period. Economic affluence, advances in the healthcare sector, and rising awareness of the importance of good hygiene are all expected to contribute to the segment's rise. Because of the large number of incontinent patients and limited access to such products and related healthcare facilities, Latin America and the Middle East and Africa are likely to offer significant growth potential for this market.
Insights into Key Companies and Market Share
Kimberly-Clark Corporation, Procter & Gamble, Attends Healthcare Products, Inc., and Unicharm Corporation are among the major competitors in the adult diapers market. Many market players are cooperating with pharmacy shop owners as a distribution channel for their products since consumers regard pharmacy shops to be the most convenient and trusted channel for purchasing healthcare products. In order to acquire a lasting competitive edge in the market, market players are also engaging in research and development operations with an emphasis on product innovation.
With the help of marketing and promotion campaigns, some adult diaper manufacturers are launching initiatives aimed at raising awareness about correct incontinence care product usage. Such measures are expected to increase the product's uptake among the elderly. Friends Adult Diapers, for example, began its first advertising campaign in India in 2017 to raise awareness about the relevance of adult diapers in bringing positive improvements to the lives of the elderly.